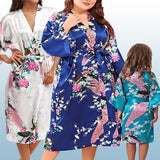 Mens Regular & Big and Tall Pajama Set with Button Down, Drawstring & Pockets - Long Sleeve Satin Sleepwear PJs
$ 69.99
$ 30.00
You save: $ 29.99
Or 4 interest-free payments of $ 7.50 with:
Learn More
customers are viewing this product

Our Men's Regular & Big and Tall Pajama Set is elegant as it is comfortable, professionally tailored with a generous cut and length
It features a button down long sleeve pajama shirt with front pocket that is accentuated with a solid collar lapel and cuff
The matching ankle length pants has an elastic waist with adjustable drawstring that allows for a comfortable fit, along with two deep side pockets that can easily store smartphone and more
Whether going to bed, getting the mail or jumping on a quick web conference, this pajamas set will make him look and feel polished
Our BluChi mens pjs are available in elegant geometric prints for a fashionable statement. It's offered in US sizes Small to XXL, as well as in big and tall sizes of 4XL, 6XL and LT, XLT and XXLT
The perfect gift for men of all ages on birthdays, anniversaries, Christmas, Father's Day and more
Made with a blend of premium polyester and spandex for a little stretch, this mens sleepwear set is great to wear all day and in all seasons. As an added touch, choose to personalize the front pocket with his initials or monogram
Gifts Are Blue works to make sure that each item that you ordered is delivered on time.
Processing/Production Times

We will ship most items (non-custom) the same business day if ordered before 2pm CST. 
Personalized/Custom items will ship in 3-4 days.  Express processing is available on some personalized items.
NEW DELIVERY OPTION: If you live in the Texas DFW Metro Area, we now offer local delivery.  Items will be delivered by 10pm CST next day. To utilize the local delivery option, please choose standard checkout or Shop Pay (express checkout does not include local delivery). To see local delivery rates, click here.
Fast Free Shipping & Other Flat Rate Pricing
Last Updated: (July 23rd, 2023)
| | | |
| --- | --- | --- |
|  METHOD | PRICE | TRANSIT |
| Domestic Standard $1-$29.99 | $6.99 | 3 - 4 Days |
| Domestic Standard $30-$49.99 | $8.99 | 3 - 4 Days |
| Domestic Standard $50+ | FREE | 3 - 4 Days |
| Domestic Express | $39.99 | 1 - 2 Days |
| Domestic Express $300+ | FREE | 1 - 2 Days |
| Canada & Mexico ($0-$99.99) | $21.99 | 6 - 10 Days |
| Canada & Mexico ($100-199.99) | $29.99 | 6 - 10 Days |
| Canada & Mexico $200+ | FREE | 6 -10 Days |
| Canada & Mexico Expedited ($1-$99.99) | $39.99 | 2 - 4 Days |
| Canada & Mexico Expedited ($100-$249.99) | $49.99 | 2 - 4  Days |
| Canada & Mexico Expedited ($250+) | $69.99 | 2 - 4 Days |
| Canada & Mexico Express | $65.00+ | 1 - 2 Days |
| UK ($1-$249.99) | $29.99 | 6 - 18 Days |
| UK Over $250 | FREE | 6 - 18 Days |
| UK Standard | $34.99+ | 6 - 12 Days |
| UK Express | $65.00+ | 1 - 5 Days |
| International ($1-$249.99) | $29.99 | 6 - 18 Days |
| International Over $250 | FREE | 6 - 18 Days |
| International Standard | $39.99+ | 6 - 12 Days |
| International Express | $65.00+ | 1 - 5 Days |
 * Days refer to business days and does not count weekends.
**More shipping options are available at checkout
Shipping is automatically calculated prior to submitting your payment information. Simply add items to your cart and proceed to Checkout. At Checkout you will be offered free shipping methods based on total order price after discounts, as well as other available options.
Main Warehouse Location

Our main warehouse is in Texas, but we do fulfill from other areas as well from time to time.
Tracking
Once your order has been sent, you will be emailed a tracking number so that you can easily track your delivery. Please wait up to 24 hours for the tracking information to update.
More Information

To view more information on shipping, please view our shipping policy (opens in new window).
For more information on returns and exchanges, please view our returns policy (opens in new window).
During the holidays, our return window is extended to 45 Days. All item purchased during November & December can be returned up to 45 days from delivery. Thanks for shopping with us.
To provide our customers with greater flexibility when shopping, we now have several Buy Now, Pay Later programs available. These options allow our customers the option to receive their items upfront while paying for the purchase in up to 4 installments over 6 weeks.
Shop Now Pay Later Program Frequently Asked Questions (FAQ)
How does these programs work?
Shop Now, Pay Later programs are quite simple to use. Simply select which program you will like to join/use at checkout, by clicking on the appropriate button.These options will be shown to you during the payment section while completing checkout. After clicking on the button, you will be taken to the provider's website to complete the very simple form. If approved, you will pay the first installment, 25% of purchase using your debit or credit card. The remaining payments, will be automatically deducted over 6 weeks, in 2 week intervals.
Which programs do we offer?
We have partner with several of the top Buy Now, Pay Later programs. Our reputable partners include AfterPay, Shop Pay, Zip Pay (formerly QuadPay) and PayPal. Feel free to use a program that you already have an established relationship with, or apply for a new one. >
What are the benefits of these programs?
One of the biggest benefits of these programs is the ability to get your items now, while having the option to pay over time. You can lock it great discounts/rates or secure your purchase on limited items when quantities are small or the item is selling rapidly. Now, especially when stock for many items are less, these programs can be quite beneficial.
How do I sign up?
It's easy. Sign up during the checkout process at Gifts Are Blue. Once you select the provider as your payment option, you will be directed to their website for signup or account login screen. For the initial sign up, the provider will require your name, date of birth, a US mobile phone number and a US debit or credit card number. Once you have provided this information, you will know if you are approved instantly.
Who can sign up?
In most cases, in order to sign up you must reside in the US, be at least 18 years old, have a valid and verifiable mobile number and purchase your item with a valid credit or debit card. In the case of PayPal this offer will be presented when completing your transaction if you are eligible.
Can you payoff your installment plan early?
Yes. Simply login directly to your provider's customer portal to view your account and orders. Select the order you wish to payoff and follow the onscreen prompts.
Can I view my orders?
Yes. You will be able to login to the provider's customer portal to view all current and past orders.
What if I don't get approve?
If you are not approve for the program, Gifts Are Blue also offers a traditional layaway program by Lay-Buy. This option is also available at checkout. Please note that with Lay-Buy, you will first have to complete the installment plan before receiving your purchase.
Hope this helps
6'4 240 purchased 2 sets of XLT, exact fit. Next time will order XXLT, just to have longer length on top and bottom. Overall love the PJ's feels great, looks great, Haven't had long enough to give an opinion on the durability and quality of the product. Order one size up for a better fit.
We hope to have short pajama set version in the near future
Sexy hubby
These pjs make my husband look and feel sexy!
Great Pajamas
I purchased 2 sets of pajamas for my father. Because he is Tall & Slim as opposed to Big & Tall, finding pajamas has always been difficult. The LT fit him well, and he likes them.
Fantastic for Big Men
These are exactly what I was looking for! My husband is 6'3" and huge and finding him anything satin and sexy and comfy is impossible! I couldn't believe the price for the quality! He so smooth and snuggly now!
They are beautiful but you sent me a 4x, and I ordered a 3x
Hi,
Thanks for giving your feedback. We are happy that you like them. Please note that we do not carry a 3XL. This mens pajamas comes in S, M, L, XL, 2XL, 4XL, 6XL and they are also available in LT, XLT and XXLT. We do offer free returns and exchanges for items under 1 pound. So just let us know. We would be happy to help. Thanks again.
It's a Christmas present. I know he'll love it IF IT FITS.